CHRISTIAN DUSSOULIER
with his team of perfumers
Having graduated from ISIPCA, Christian worked for eight years at Givaudan, followed by 14 years at Firmenich, before going on to create his own company, Créations et Parfums.
A fine fragrance specialist, he has overseen a number of projects and worked with all of the greatest perfumers, including Jacques Cavalier, Alberto Morillas, Thiery Wasser, Annick Menardo and Christine Nagel.
His hits: Acqua di Gio for Men, Flower by Kenzo, Miracle by Lancôme, One Million, Black XS, Nina by Nina Ricci, Lolita Lempicka, Boss Bottle, Addict by Dior and Hypnotic Poison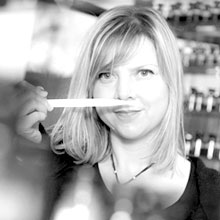 JENNIFER RILEY
Jennifer Riley was born in New Zealand near Auckland. She grew up in this region and discovered perfumery at the age of 18. Influenced by the gourmet aromas of red fruits, her favourite scents feature floral and fruity notes. Her preferred natural flowers are boronia and freesia, and the synthetic ingredients which work best for her are ambroxan and cepionate.
For Jennifer, perfumery is like a puzzle consisting of a huge variety of notes that have to be blended together in order to arrive at the desired result. It is this quest for perfection and pleasure which makes her truly passionate about her trade.
Having trained at the London perfumery school, IFEAT (International Federation of Essential Oils and Aroma Trades), she furthered her study of the perfume trade in France alongside the perfumer Jean-François Latty at the Grasse Institute of Perfumery. After completing her training with companies in Grasse, Jennifer joined Créations et Parfums in 2006.
She is currently working on a fresh and sensual floral fragrance for women for a lingerie range. Her most recent success was for IKK: Believe In You.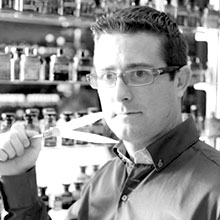 SÉBASTIEN MARTIN
Sébastien Martin was born in Paris and subsequently settled with his family near Cannes. He was fascinated by a presentation given by a flavourist from the company ROBERTET during a jobs forum at his school. The presenter's introduction to the subtleties of strawberry flavour made the young Sebastian, aged only 13 at the time, want to work in this field in the future.
After studying Biochemistry, Sébastien specialised in Analytical Chemistry at the ASFO in Grasse. Upon completing his studies, destiny brought him into contact with ROBERTET a second time and he became an employee of the company in 2000. He worked as part of the team of perfumer Michel Almairac until 2009, when he left to join Créations et Parfums.
In the end, Sébastien Martin would focus on fragrances rather than flavours. Inspired by the fruity animal flavours of natural osmanthus and musky, ambery synthetic cashmeran, he remained fascinated by the richness and timeless quality of perfumes. It was therefore only natural for him to look to the fragrance Eau Sauvage by Christian Dior as a reference. For Sébastien Martin, perfume has a unique ability to transmit strong emotions. Creating such emotions for the largest possible number of users to experience is what he is most proud of.
Sebastien is currently working on the creation of a fragrance for kids, targeting teens in particular. His most recent success was for Jacomo: Jacomo Oud.